---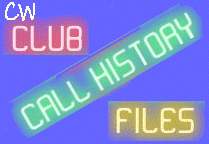 CW Club Call History files for N1MM, N1MM+ & Logger32

---
Club files work perfectly with Logger32 add-on CheckCall (by JA1NLX) [works with

v5.36

and earlier]
CheckCall shows ALL club membership numbers, etc., unlike

N1MM

Logger+



---
clubs_call_history.txt

shows all club memberships listed here against each callsign entered in

N1MM Logger

Classic and

N1MM

Logger+


Membership no. shown is the last club found e.g. SKCC


Any single Call History file can be loaded for one club (e.g. soc_call_history.txt)



Note: This data is for CW clubs only

---
Call History file

1




Updated (size)

Reference Link

Home page

Raw File




Changes

Days since update



A1J
2017-06-29 03:46:25Z 50K

A1J
A1J
A1J
-
2

A-1
2017-10-22 05:42:57Z 142K

A-1
A-1
A-12
-

130

AGCW
2017-05-23 10:01:05Z 58K

AGCW
AGCW
AGCW
AGCW3
154

CFT
2017-05-23 10:01:04Z 4.9K

CFT 1 2 3
CFT
CFT
-
154

CQCW



2017-08-09 07:13:34Z 11K

CQCW

CQCW

CQCW



76


CW-CTC





2017-07-06 14:41:32Z 55K


CW-CTC




CW-CTC



CW-CTC



110

CWops
2017-08-25 09:26:32Z 41K

CWops

CWops
CWops
-
60

ECWARC

2017-07-28 05:28:46Z 9.2K

ECWARC

ECWARC

ECWARC

-

122

FISTS
2017-05-23 10:01:07Z 169K

FISTS FISTS

FISTS
FISTS
-
154

FOC
2017-10-10 11:03:30Z 12K

FOC
FOC
FOC
-
14

FPQRP
2017-08-25 09:40:03Z 86K

FPQRP
FPQRP
FPQRP
-
60


GPCW





2017-07-28 07:52:40Z 1.0K

GPCW
GPCW
GPCW
-

88

HSC

25wpm

2017-06-16 11:21:39Z 31K

HSC
HSC
HSC
-
130

VHSC 40wpm
2017-05-23 10:01:04Z 8.0K

VHSC
VHSC
VHSC
-
154

SHSC

50wpm

2017-05-23 10:01:04Z 3.5K

SHSC
SHSC
SHSC
-
154

EHSC

60wpm

2017-05-23 10:01:04Z 2.3K

EHSC
EHSC
EHSC
-
154


HTC





2017-07-09 09:59:26Z 5.7K

HTC

HTC

HTC

-

107

IQRP

2017-07-07 05:10:26Z 20K

IQRP

IQRP

IQRP

-

109

KCJ
2017-05-23 10:01:05Z 5.0K

KCJ
KCJ
KCJ
-
154

LIDS

2017-06-18 13:18:25Z 4.7K

LIDS

LIDS

LIDS

-

128


Marconi ARI





2017-07-09 12:59:29Z 14K


Marconi ARI



Marconi ARI

M-ARI

-

107


MCWG





2017-07-08 08:37:53Z 946

MCWG

MCWG

MCWG

-

108

NAQCC
2017-07-01 14:27:13Z 198K

NAQCC
NAQCC
NAQCC
-
115

NOC
2017-05-23 10:01:04Z 306

NOC
NOC
NOC
-
154

OECWG



2017-07-28 07:13:07Z 2.7K

OECWG
OECWG
OECWG
-

88

PRO-CW



2017-07-06 07:35:18Z 1.5K

PRO-CW

PRO-CW

PRO-CW

-

110

QRPARCI

2017-05-23 10:01:07Z 293K

QRPARCI
QRPARCI
QRPARCI
-

154


RCWC





2017-07-07 12:54:01Z 17K

RCWC

RCWC

RCWC

-

109

SKCC
2017-07-01 14:05:00Z 371K

SKCC
SKCC
SKCC
-
115

SOC
2017-10-22 06:09:48Z 22K

SOC
SOC
SOC
-
2

UFT
2017-06-20 06:06:04Z 10K

UFT
UFT
UFT
-
154

All Combined
2017-10-22 05:43:41Z 1.6M

-
-
-

-
2

1. After loading Call History file, N1MM may turn off lookup (especially in DX mode). Don't forget to turn it back on.

2. Very hard work!

3. Check often - Spreadsheet infrequently updated

>>>>>

79768 CW club memberships*

<<<<<

* This is a correct total. Your logger

may

report a slightly different number.
This page now runs much better with tab opening links throughout.

---
Other Files
1. The second full weekend of July, beginning 1200 UTC Saturday and ending 1200 UTC Sunday
2. The last full weekend of July, beginning 1200 UTC Saturday and ending 1200 UTC Sunday


ILLW - The third full weekend of August, beginning 0000 UTC Saturday and ending 2359 UTC Sunday (Duration 48 hours).
Given up file for this event because the data format is so awful and the organiser says: "The html,

data

and graphics are protected by copyright".
Was told to remove G-QRP file. Obviously they want to hide under a rock!


Real-time cluster data for Club Members (reference data not taken from this page, despite being offered)

---
N1MM+: You can load any of the Call History files using

File/File Import/Import Call History

. Select

clubs_call_history.txt

if you want all of them as one file.

---
From ~May 2015,

N1MM

Logger+

reloads Call History files at every startup.
This

slows down

any re-starts by making them >20s instead of about 6s previously (given the size of the Club Call History file and computer speed). You can just blow the message away by answering 'No' and the old copy of the Call History
stays
there, but it isn't obvious that any Call History will actually be there from the way it is worded.
---
•

USB/RS-232 interface: If you have a Prolific chipset I/F.

Many, many others before you have gone through this. Best solution is to get an FTDI chipset.

•

If your rotator no longer works through Alt-J and Alt-L: Configure->Configure Ports, select the Broadcast Data tab. The Rotator line should be: 127.0.0.1:12040.

•
Time sync: Use Dimension4, Tardis2000 [$$], NetTime, etc. Don't use the built-in Windows time sync service. It's overloaded & can be 45s 'out'.

•
Did you know that N1MM+ is one of the fastest updated Windows applications programs at the rate of 50 per year? Yes, I log 'em.

•
Re-installing? Do not launch N1MM immediately after FullInstall is made. Download and run the Latest Update, THEN launch the program.
•
Don't you just love it when somebody posts to a Group (forum) "Please remove me from this forum"?

---
© 1972-2017 G4BKI. All rights reserved.